This article addresses common questions related to your Coverflex login.


I did not receive the SMS code to login to my Coverflex
The SMS with the access code may take a few minutes to arrive.
If more than 10 minutes gone by, you can request a new code directly on the login screen.
If you still haven't received any code:
Make sure that you entered your e-mail and password correctly;

Make sure that the last three digits of the indicated phone number match the last three digits of yours.
If the indicated phone number is incorrect, please contact us through our chat or via e-mail at help@coverflex.com, so that our support team can help you.
For how long is the code valid?
The access code is valid for 10 minutes.
If it has expired, you must press the "resend" button to receive a new one.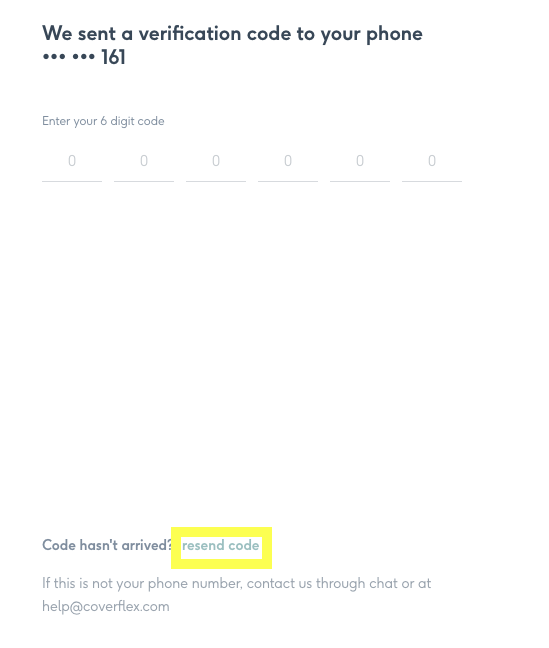 I am a company manager and employee.

How will I receive the code?
If you are logging in to your employee profile - through the Coverflex app or at my.coverflex.com - you will receive your access code via SMS to the phone number registered in your profile.
If you are logging in to the company's dashboard, you will receive the access code in the e-mail address that's registered with Coverflex.

Can I configure/disable the access option with the code?
It is currently not possible to turn off the multi-factor access option. It is an additional access protection to your account and it's meant to assure that your data and balance are safe.
Our team will continue to work to provide more access options to make your experience even simpler.
The company I work for has SSO set up. How should I login?
In this case, the login method remains the same, that is, the code will not be sent. You must login as usual with the e-mail and company network.
How should I login for the first time?
To login at Coverflex for the first time, you must follow the link in the invitation e-mail sent by your company. You must click on "Create account" to register a password and confirm your data!
If the link expired, you can request a new one to be sent to your company manager, directly in our chat, or by sending an e-mail to help@coverflex.com.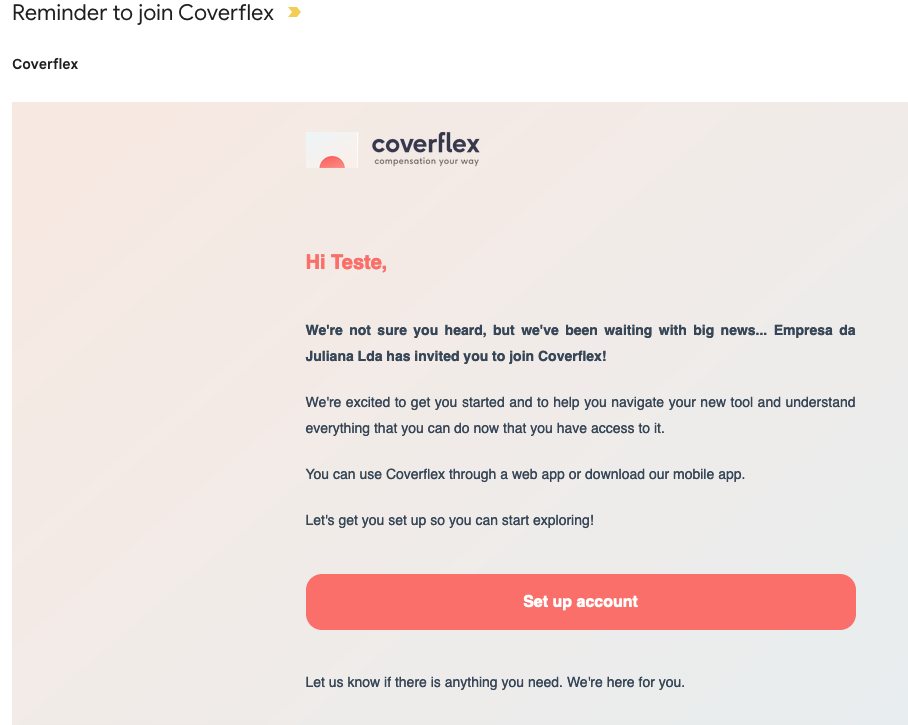 Once this is done, you can login as you usually do to the Coverflex app or at my.coverflex.com.
I have created my Coverflex account, but when I try to login I get a message saying my credentials are incorrect.
In this case, you must request a password recovery to register a new one directly on the login page. You will receive an e-mail with a link to register a new password.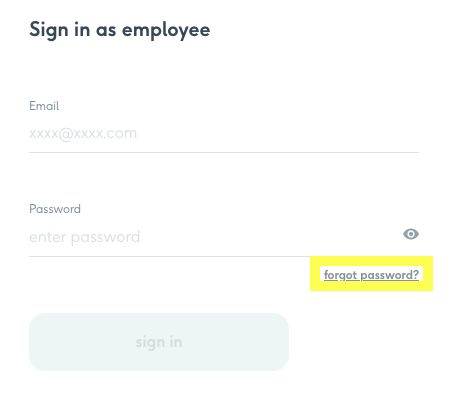 If you have any problems or difficulties in this process, you can contact our support team through our chat or the e-mail help@coverflex.com.